The Susan Hunter books are not your typical mysteries, and Susan Hunter is not your typical sleuth. Often, she is simply in the wrong place at the wrong time, and things go downhill quickly. The books cross genres of chick lit, mystery, romance, humor, and action, bringing you a fast-paced, easy-breezy read.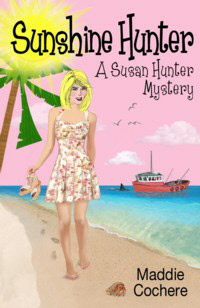 In the first book, Sunshine Hunter, the story begins as chick-lit with Susan pondering murder when she finds out her new boyfriend of three months is married. After taking some time to look back on the relationship and the deception, she accepts an offer from her best friend to tag along for a week in Florida. Here the mystery begins, and Susan believes she and her friend are being stalked. She also learns of a murder back home in Ohio and soon finds out she's wanted for questioning. The story takes an adventurous turn when she ends up in the Gulf of Mexico. Chick-lit, mystery, romance, and humor all make for a fun book.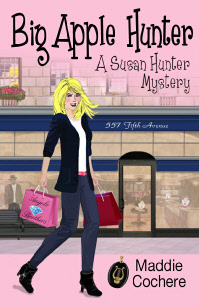 Big Apple Hunter also starts as chick-lit as the book opens in the Slimmers Weight Loss center which Susan manages. She continues to struggle with her personal love life, and there are some changes on the horizon concerning her job with the weight loss company. A strange accusation from the local deli owner causes Susan to look back on events over the past few months, and when her friend asks her to join him for a weekend in New York City, Susan is delighted to get away for some shopping. The mystery begins when the jewelry she buys is soon stolen, and it isn't until she arrives back home that she realizes just how much danger her life, and that of her friend, is in. Once again, there is a mystery, some romance, humor, and action.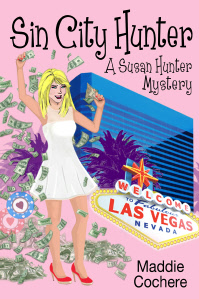 Sin City Hunter – In book three, Susan is in Las Vegas for a week of work and training at the corporate offices of Slimmers Weight Loss. She flies out a few days early for some fun and relaxation. Her parents join her, and there is a new character introduced to the books - a professional hockey player. During a magic show, Susan finds herself backstage and sees what she believes is a murder in progress. The man behind the murder sees her, and it's a question now as to what really happened on the other side of that white door. A man who is always watching, an evil boss, extortion, and plenty of laughs around all of the events in Las Vegas make this book, with its surprise ending, a lot of fun.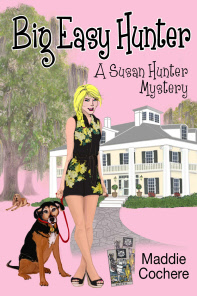 Big Easy Hunter – This book starts on the racquetball court in Carbide City, and two mysteries are quickly introduced. One of them involves reports of Susan being seen driving away from home break-ins in the middle of the night. A character only mentioned briefly in a previous book has a main role in this one and provides quite a few of the humorous moments. Susan and her friends travel to New Orleans to attend a wedding. A new mystery develops here, and Susan actually steals something which puts her smack dab in the middle of a criminal investigation. The book ends back home in Carbide City with a big climax. Chick-lit, romance, humor, action – and dogs! What's not to love!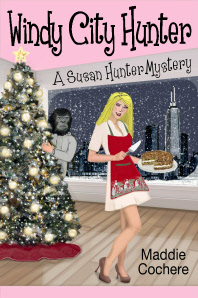 Windy City Hunter – This is the first book that has no racquetball playing, and there aren't any scenes at the weight loss center. The story takes place entirely in Chicago. The tone of this book is different. It's more "pure mystery" than the others. Susan is along to assist her friend at a cooking competition. They aren't even unpacked in their condo yet when they see a murdered woman, and because they were on the scene moments after the murder, one of them is accused and eventually charged. To further complicate matters, there is an art forger trying to befriend them, and some shenanigans take place at the cooking competition. With a little romance and some humor, the book remains definitively Susan Hunter.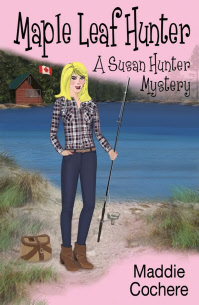 Maple Leaf Hunter - Once again, there is no racquetball playing, and there are no scenes at the weight loss center. The book starts with a bit of chaos when Susan and Samantha are chatting in the food court at the mall, and a man falls on Susan after suffering a heart attack. This strange occurrence sets in motion an adventure with some desperate men who follow Susan to Canada. There are romantic overtones as Susan has never seen Mick look so rugged before, and she lusts after him continuously on their vacation. Darby, Nate, and Mick's son, Alex, are along for the fun this time, and a Sasquatch has Nate on edge. He even writes some poetry about the creature. Once again we cross genres of mystery, romance, chick lit, action, and adventure for a fun, easy-breezy read!
I hope you enjoy the light, easy-breezy style of the Susan Hunter Mystery Series. It has been my pleasure to write the books with the goal of entertaining you for a few hours and making you smile. ~Maddie Cochere